Coopworth Publications
CT Scanning
Researchers in animal science and sheep breeders have for a long time sought an accurate and reliable method of measuring in vivo body (carcass) composition, mainly with the aim to improve and manage carcass composition. Improving carcass composition can be done through nutrition. However, there are strong reasons why significant emphasis should be placed on altering the genetic potential of animals for growth and development of their carcass tissues. Traditional selection, whereby the best animals are kept as parents for the next generation, offers permanent, cumulative genetic gains that fit well within a livestock production system
Coupled with modern statistical approaches and genetic analysis, substantial genetic gains are possible. Modern breeding methods also provide the most economic way to select for improvements in a suite of traits and methods.
Dissection is the reference method to measure carcass composition. Full carcass dissection is an expensive and time consuming procedure, and therefore only suitable for a limited number of applications such as research trials involving a small number of animals.
There are technologies available to measure body composition however they differ in accuracy, reliability and cost. Ultrasound scanning is probably the most widely used technique. Although, the level of measurement precision achieved in sheep is less than desirable, the technique has advantages in ease and speed of operation, mobility and cost, with the potential for measuring large number of animals. Although ultrasound technology is widespread, there is a need for a more accurate method of evaluating carcass composition.
Computed Tomography (CT) is a more sophisticated diagnostic tool, which offers comprehensive and reliable information. CT scanning is technology that was developed for use in human medicine. It produces cross-sectional (slices) through a living animal in a non-invasive and welfare acceptable procedure. CT uses low dosage X-rays that are emitted in a 360⁰ motion round the body of the sheep. The amount of radiation transmitted through the body depends on the absorption (attenuation) rate of the X-rays which differ between the various tissues (muscle, fat and bone)according to their relative densities.
Use of CT scanning in commercial sheep breeding programs.
Two methods of CT scanning are available, the Calvalieri or reference method. The calvalieri method involves scanning at 15 to 20 evenly spaced sites along the animal. The Reference method requires images taken at 4 to 7 preselected anatomical sites.
Both methods give highly accurate predictions of carcass composition in sheep but require very different time inputs for generating the images and results, which leads to the reference approach being the most cost effective. Reference scanning initially focused solely on total tissue weight when only 4 slices were used. Work has shown that all tissue weights were predicted as well based on the 4 CT scans from the reference set as when a 7 CT scan protocol was used. However when tissue weights contained in the 3 regions (hindquarter, loin and shoulder) are required the extra scans (7) would be needed to achieve an accurate prediction.
CT scanning is more expensive than Ultrasound ($100 - $300 compared to $3.50 respectively) and so its use in sheep breeding programs has been as a two-stage selection process in combination with ultrasound scanning. The theory being that a large number of animals are firstly ultrasound scanned and the best 10-20% CT scanned.
The accuracy of Estimated Breeding values for growth and meat traits (SIL) will be greatly enhanced through the incorporation of CT data. SIL Indexes and eBV's will either increase or decrease if CT measures prove an individual or family to be superior or inferior.
Overseas Data
The graph below compares 12 flocks where lambs have been CT scanned with a randomly selected group of 12 similarly sized flocks, where CT has not been used. EBV's for these non-CT scanned flocks were initially lower, but their rate of increase is also lower.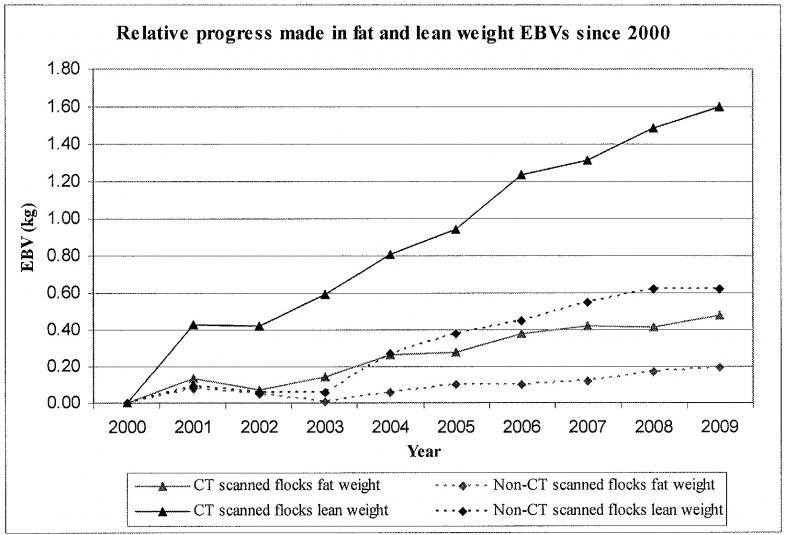 Coopworth Genetics New Zealand
CT scanning allows you to more accurately identify the best animals in a flock for breeding. It assists delivery of rams to the commercial sector that will make a real difference to product quality and profitability.
Used in partnership with ultrasound scanning, in a 2-stage selection program, CT offers the opportunity to accelerate the rates of response to selection, for improved carcass quality, in a cost effective way.
Registered breeders with Coopworth Genetics New Zealand have traditionally been leaders in the uptake of new technology, and in 2010 Coopworth Genetics initiated the "Muscle Bus" project with the aim of improving the breed's meat yield to greater than 56% in 8 to 10 years.
As an incentive to encourage breeder participation the Coopworth Genetics council agreed to pay for the transportation of animals to and from the CT scanning facility, the number of animals eligible for this payment is determined by flock size.
Flock size determined on the basis of Total recorded ewes mated including crossbreds but only Coopworth stock to be included in program.
Flocks with below 150 ewes the transport to and from the CT scanning facility will be paid by Coopworth Genetics for 3 ram hoggets.
Flocks with between 151 à350 ewes the transport to and from CT scanning facility will be paid for by Coopworth Genetics for 6 ram hoggets.
Flocks with over 350 ewes the transport to and from CT scanning facility will be paid for by Coopworth Genetics for 9 ram hoggets.
It appears from SIL records that while there was an initial uptake and participation in the "Muscle Bus " project and CT scanning technology this has diminished in the last 12 months in fact a 25% reduction in Coopworths scanned in 2012 compared to 2011 and a 30% reduction in Coopworths scanned in 2012 compared to 2010.
One CT Service provider has in 2012 scanned in excess of 700 commercial rams of which only 71 were Coopworths, are Coopworths really utilising this technology for the betterment of the breed given the objective of improving the breed's meat yield to greater than 56% in 8 to 10 years.